Our Crew
Whale Watch vessels are crewed by a friendly team of Skippers and Guides very experienced in interacting with the local Sperm Whales.
They have expert knowledge of Kaikōura's sea conditions and are fully trained in all aspects of safety. Whale Watch staff constantly monitor the weather and respond professionally to any changes. This may mean a tour is cancelled or safety restrictions placed on children or passengers with medical problems. Passenger comfort and safety are always our priority.
---
SHANNON GRAY - Captain / Guide
Kia Ora - I have been apart of the Whale Watch Kaikōura team for a few years now. I get a lot of enjoyment showing our visitors the beauty of Kaikōura, the whales and other animals we encounter on our tours. "I love the office I work in". I have the best job ever!
---
JAIME BROWN - CAPTAIN
Kia Ora - I love showing our guests our spectacular marine life in its natural environment. There is no better way to see whales, dolphins, seals and other wildlife. You will not find any cages here, no feeding time, no teaching of tricks to perform for entertainment - just pure natural beauty at its best! The marine life we see are simply going about their daily lives, and for me, to be able to take guests out and see this is pretty special. 
---
MALLORIE HACKETT - TOUR GUIDE
Tēnā Koe, I was knee high to a grasshopper when I saw my first Sperm whale at Oreti Beach and that's where my love for whales started. For my 10th birthday, my family took me to Whale Watch Kaikōura and I swore to myself that one day I'd work for them. Alas, here I am! 
It goes without saying that I love my job, not only working with all the whales and wildlife in their raw, natural form but the true reward is subtle, hidden in being able to share my passion with visitors from all over the world and showing them a good time. 
---
TIAKI WILLIAMS - TOUR GUIDE
KIA ORA my name is Tiaki Williams and iI have been working at Whale Watch Kaikoura for a couple of years now, I am still not and probably will never be bored of working in this small but majestic piece of paradise. The best part of it all isn't just the beautiful whales or the stunning scenery but is teaching everybody not just about marine life but also the beautiful culture of Kaikoura.
---
ANNIKA DAHLBERG - TOUR GUIDE
Kia Ora, I absolutely love being able to be out on the water each day and to show this beautiful marine environment to our customers from all around the globe. The Kaikoura canyon is teeming with wildlife and it's great to view them in their natural environment. Kaikoura is truly a unique place where you can view whales, dolphins, seals and albatross all in one tour, there is no place like this anywhere else.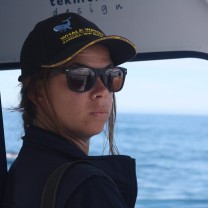 ---
ALLAN CRONIN - TOUR GUIDE
Kia Ora, observing wildlife in its natural habitat is the best thing you can do. Here in Kaikoura we get to view sperm whales on a daily basis, it is a true privilege to view these majestic creatures and to be able to share my passion for marine life with our guests is truly special. Every day out on the water is different and you never know what the next day is going to bring. I get to work in one of the most unique and special places in the world.