Our Crew
Whale Watch vessels are crewed by a friendly team of Skippers and Guides very experienced in interacting with the local Sperm Whales.
They have expert knowledge of Kaikōura's sea conditions and are fully trained in all aspects of safety. Whale Watch staff constantly monitor the weather and respond professionally to any changes. This may mean a tour is cancelled or safety restrictions placed on children or passengers with medical problems. Passenger comfort and safety are always our priority.
---
Jim Manawatu - Captain
I started working for Whale Watch Kaikoura back in 2000 as a guide. Since then I have moved on to become a captain. Over the years I have continued to be amazed and humbled by the marine life, its variety and the power of the ocean and the life that it brings. I love being able to share this with people from all over the world.
---
Shannon Gray - Captain / Guide
Kia Ora - I have been apart of the Whale Watch Kaikoura team for a few years now. I get a lot of enjoyment showing our visitors the beauty of Kaikōura, the whales and other animals we encounter on our tours. "I love the office I work in". I have the best job ever!
---
Aroha Tahau - Tour Guide
Kia Ora my name is Aroha, I work with as a guide with the Sea Crew team at Whale Watch Kaikoura. I love working alongside such vibrant and passionate people, what we encounter out on the ocean on almost a daily basis is nothing short of stunning. A dream job!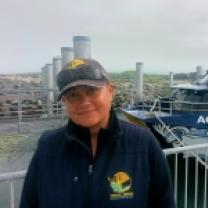 ---
Chevy Allen - Captain
Kia Ora – I started working at Whale Watch Kaikoura in the early 90's as a guide. I was then given the opportunity to work in other departments of the company which eventually led me to become a skipper.
Working in a company that has a 100% focus on customer satisfaction & value for our guests gives me pleasure in being able to show people who have travelled from the 4 corners of the earth what nature has to offer… beautiful marine life, the true natural wonders of the world.