Hutton's Shearwaters FlySafe Campaign
The nationally endangered Hutton's shearwater/Kaikōura tītī (Puffinus huttoni) is the only seabird globally to breed in an alpine environment, with the only two breeding colonies remaining in the Seaward Kaikōura Range in the South Island of New Zealand. Kaikōura is therefore literally their last place on earth.
During March and April, there is a call for those in Kaikōura to help Hutton's Shearwater fledglings to reach the sea safely.
Formerly fluffy chicks have now grown most of their shiny new adult feathers and will put them to the test over the when leaving their burrows for the first time to fly out to sea. Not all of them will be successful and as such the time of the year has come again to be extra vigilant and watch for crash-landed Hutton's Shearwaters.
Crash landings or 'fallout' of Hutton's Shearwaters occur during the breeding season when birds fly from their mountain colonies to the sea. These flights take place at night and birds can become disorientated by the artificial light spill of the Kaikōura settlement which lies within their flight path. Birds mistake the lights for navigational cues and end up colliding with lamp or power poles and lines or just land prematurely within or around the township instead of the sea.
Once on the ground, birds are unable to take off again. It is as if they cannot make sense of this unusual environment and just remain where they are. Waiting. They will need help to get some water under their feet and some wind under their wings. As such, they also won't budge for approaching cars and can end up as roadkill. They also can't get away from cats or dogs and fall victim to predation. Most birds have a good chance to survive if they get rescued, kept safe and released the following day.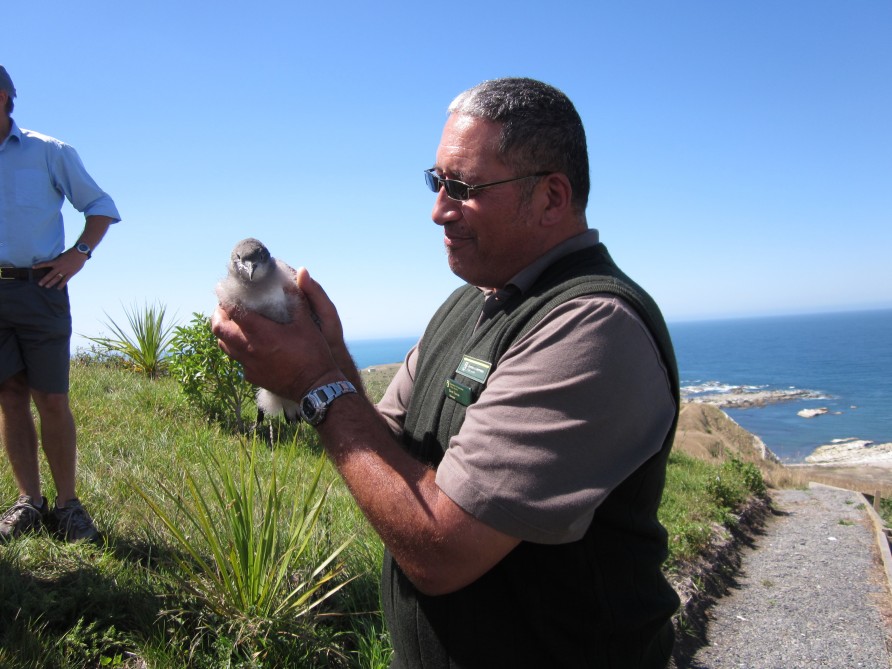 HOW YOU CAN HELP
Watch out for crash landed Hutton's shearwater in the streets or on your property and assist in the rescue of these birds
Reduce speed when driving through Kaikōura at night or early morning hours to avoid roadkill
Keep your cats and dogs contained or on a lead at night to prevent predation
Minimise your light spill by; directing light sources downwards with hoods or covers; dim or switch off lights where possible; closing curtains at night
WHAT TO DO IF YOU FIND A BIRD
If alive and healthy, gently pick up and place in non-airtight box and deliver to The HUTTON'S HUB at 115 Ludstone Road (next to DOC office). It is open 24/7 to receive rescued birds. From here they will be examined and safely released.
For queries or assistance, you can ring our dedicated trustee Nicky McArthur (021 351 355) who is happy to help.
For more information, visit www.huttonsshearwater.org.nz.